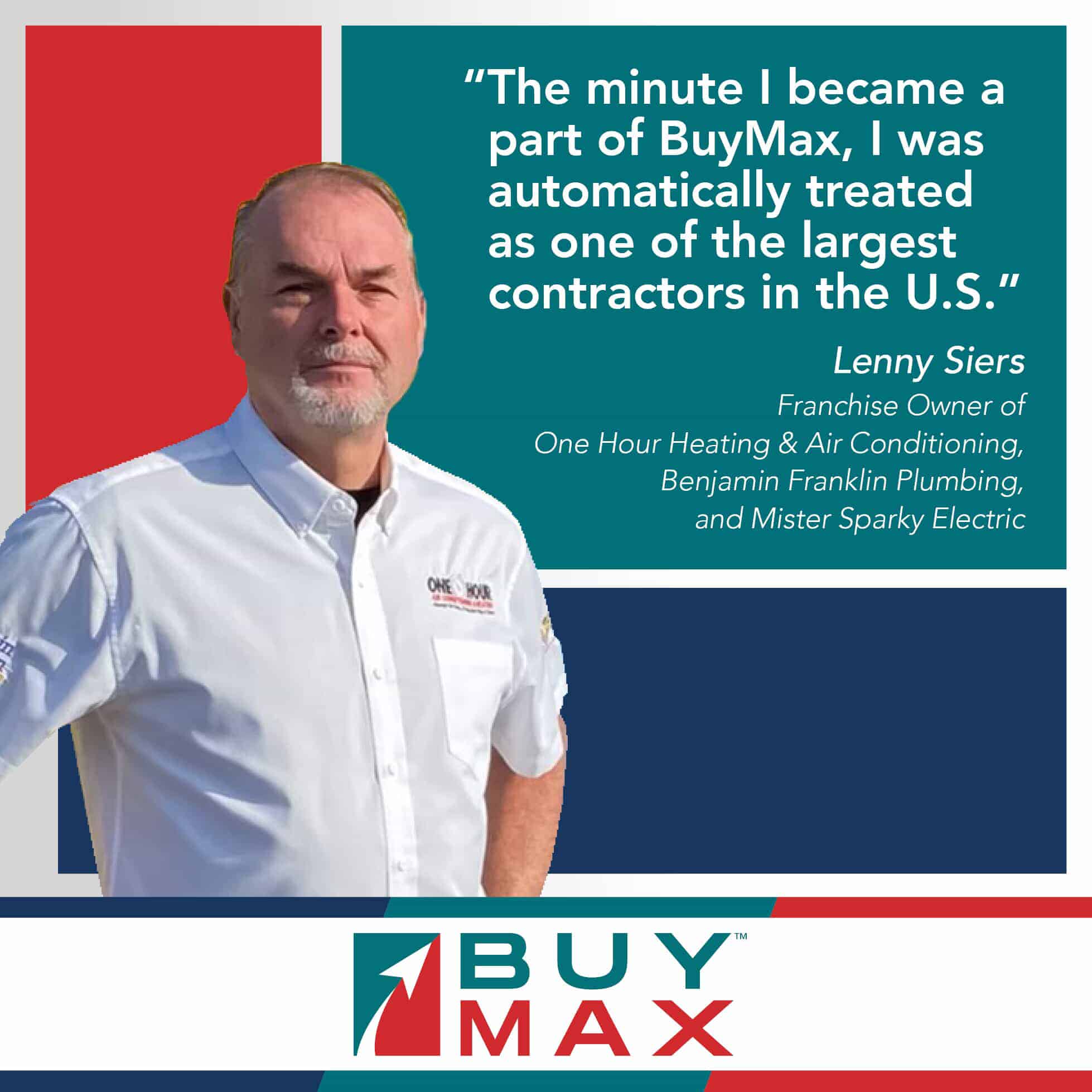 As an active duty air force veteran, Lenny Siers is accustomed to uniformity, structure, and collectivity. These core values led Siers to become a contractor over 25 years ago and a successful member of BuyMax.
Originally, Siers started as an independent contractor and then, seeking further uniformity, franchised to a One Hour Heating & Air Conditioning in 2005, shortly followed by a Benjamin Franklin Plumbing and Mister Sparky Electric. Siers was a BuyMax member in his independent days and continued using their services after franchising.
"BuyMax is one of the big pillars of running a business in the residential home services industry. The value of having more buying power than I can purchase on my own is vital. Then, to also have someone negotiate on a typically annual basis on our behalf and ask the questions: can we do better, have we done better, and can we incentivized to do better?" remarked Siers. "Being a part of one of the largest group purchasing organizations out there has been a tremendous benefit to my operations, and it gives me peace of mind knowing that we have the best vendor relationships and incentives out there."
Looking for collectivity, Siers was very interested in BuyMax's vendor relationships. Having worked on his own as an independent contractor without the collective strength of a group purchasing organization, Siers found relief in BuyMax's preferred vendor profile. In fact, Siers noticed a difference in the treatment he received from vendors as well.
"Outside of BuyMax, I kind of felt like we were the underdog compared to our competitors, and we didn't see any light at the end of the tunnel of being able to be treated as a larger contractor without becoming a huge contractor," said Siers. "The minute I became a part of BuyMax, I was automatically treated as one of the largest contractors in the United States.."
The product and vendor training offered through BuyMax enabled Siers to find additional structure for his business. This training provided best practices for selling top products to homeowners, professional install methods, and more.
"Being that my business sells private label Indoor Air Quality (IAQ) products from BuyMax, the training on how to sell, install, promote, and market IAQ helped us a lot to become who we are today at more than $25 million in residential services. It is the training and marketing side of BuyMax working together with the private label products that help us achieve our success," remarked Siers.
Looking to the future of his business, Siers frequently reviews his participation in BuyMax's offering to see if there are new or additional ways he can save money. BuyMax is often signing new contracts with vendors across industries in an effort to find different money-saving methods.
"BuyMax has aggressively done more in the past couple of years to find better vendors and to be more competitive in today's market," said Siers. "It really does make it more affordable to be a franchise and allows me to put more money into the benefits and marketing for my brand, the benefits and pay for my employees, and also keeps us competitive against the very aggressive market out there. To survive in today's world, you need a partnership with someone like BuyMax."
With the success Siers has seen with BuyMax over the years, he offers his advice to businesses looking to get involved or maximize their current membership saying, "Treat BuyMax as a long-term return on investment strategy with the understanding that sometimes the delayed gratification of a year or two is what it takes to get you to the next level."
Learn more about the benefits of a BuyMax membership at buymax.com/become-a-member.