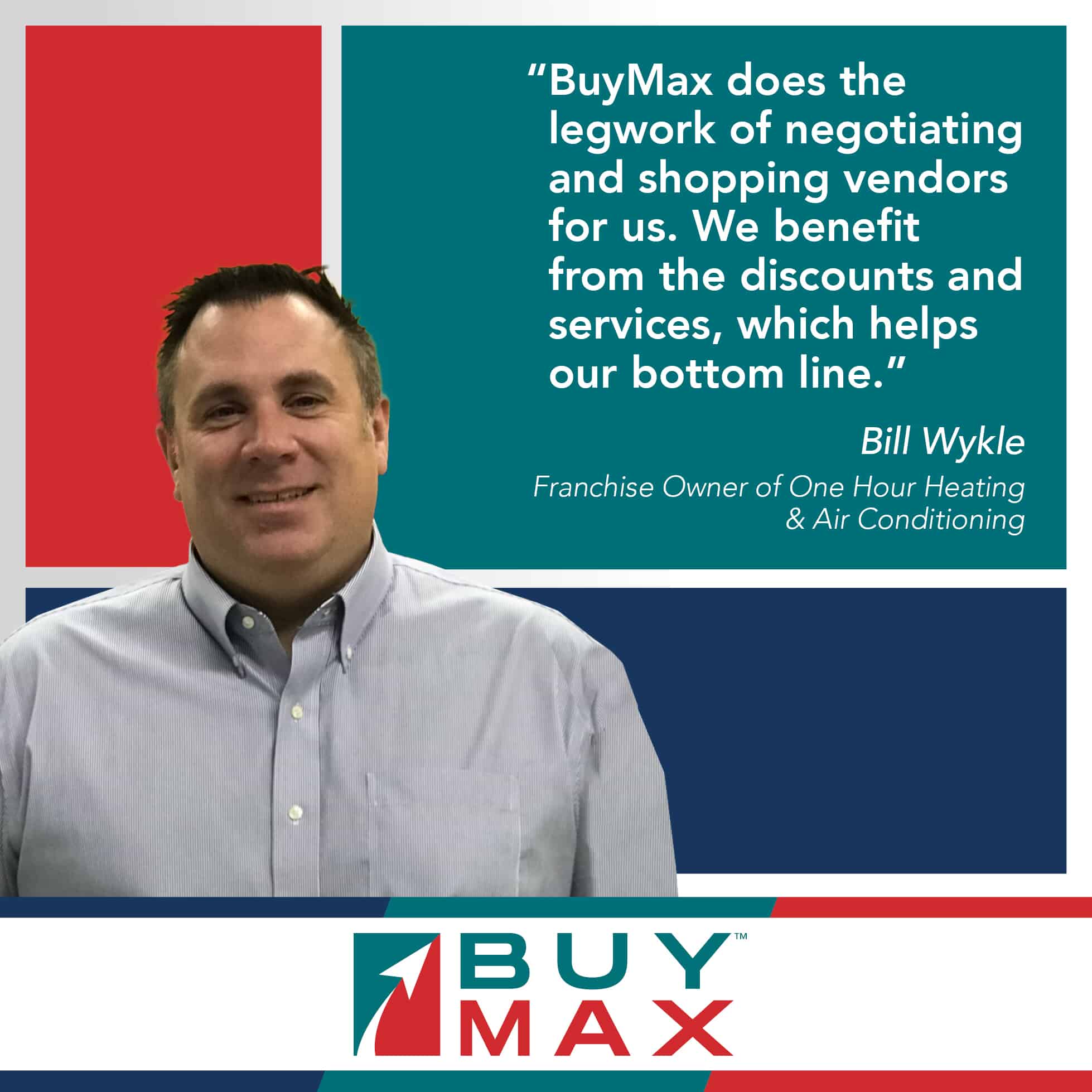 Running a business is challenging. Keeping an eye on every moving part – from employees to vendors, from marketing to equipment – can take a toll on any owner or manager. But for Bill Wykle, this dance is something he and his family have been doing for decades.
In 1972, Bill Wykle's dad and uncle began a heating & air conditioning company in St. Charles, Illinois. This family effort found success but was looking for more opportunities and brand recognition. In 1997, Bill joined the business, and in 2003, they franchised as a One Hour Heating & Air Conditioning.
From the beginning of their story as a franchise, Bill and his business have been involved with BuyMax, and over the years, it has become a dependable source of rebates and discounts.
"I view BuyMax as always running in the background. When we need savings or are looking for new vendors, we know who to turn to," said Bill.
After the release of BuyMax's Fleet, Communications, and Insurance programs, Bill Wykle took a look at what his business was currently using to see if there were opportunities for discounts. Through the BuyMax Communications Program, Bill was able to find significant savings from what he was receiving from his previous vendor.
"BuyMax does the legwork of negotiating and shopping vendors for us. We benefit from the discounts and services, which helps our bottom line," noted Bill.
After specializing in Indoor Air Quality for almost four decades, the Wykle business finds it extremely important to provide their customers with high-quality service and equipment. That is where Bill turns to BuyMax. Before purchasing new equipment, his first step is to check with BuyMax's offerings to see if there is a way to find better deals.
Also, with BuyMax, Bill can get his products branded with the One Hour Heating & Air Conditioning logo. This helps reduce customer's competitive price shopping as they will not be able to search the name of the products to see if they can find them cheaper elsewhere.
It is these services that keep businesses like Bill's using BuyMax. In fact, when asked if Bill had any advice for companies who are thinking of getting involved, he noted, "If you are looking to do any work with vendors, be sure to check out what BuyMax is offering, as it might just save you time and money!"