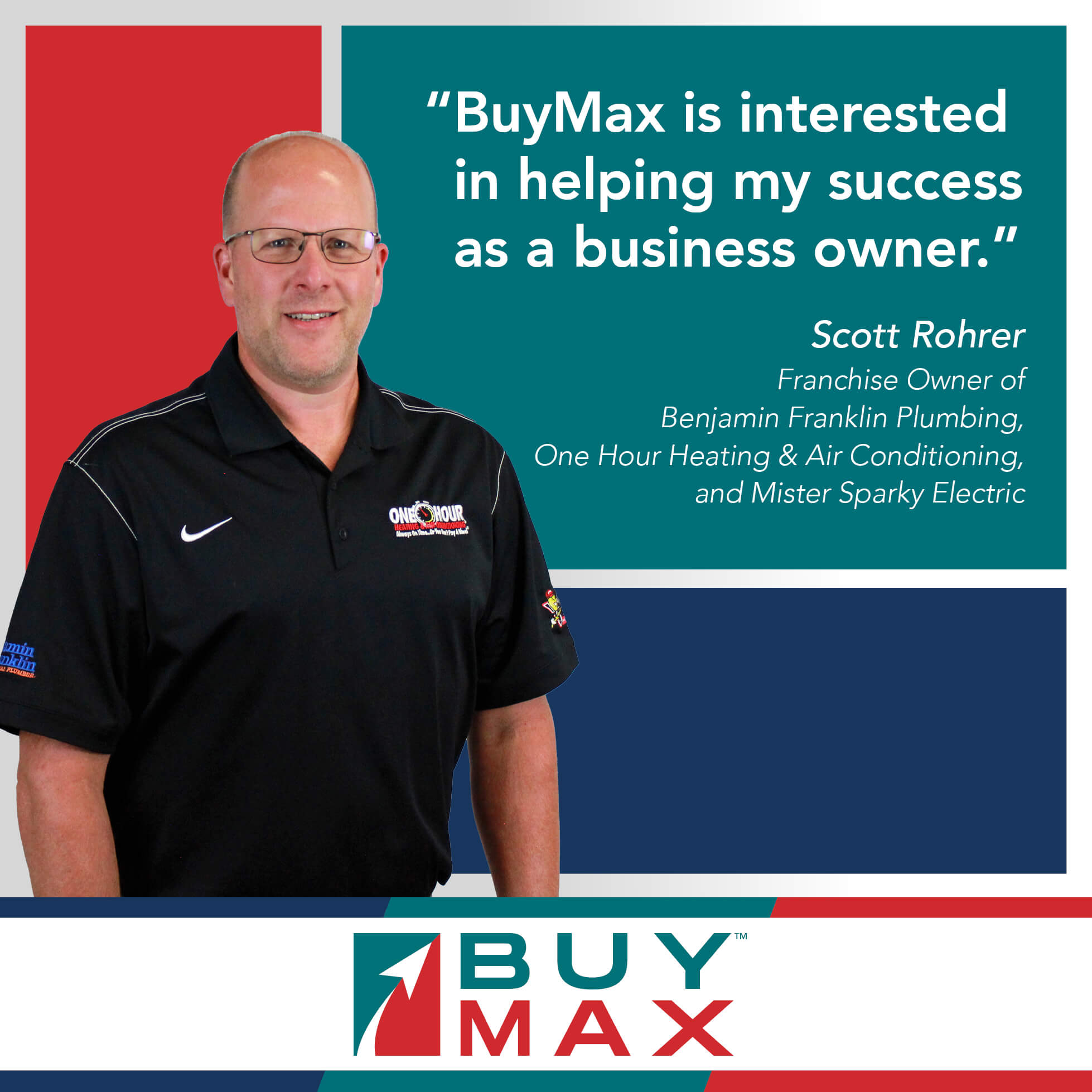 ​​Small business owners face hard decisions when working to grow. Whether these decisions are about vendors, employees, or customers, business expansion can be significantly influenced by a handful of meaningful choices. 
Scott Rohrer, Authority Brands franchise owner, is no stranger to hard choices. In fact, he still remembers the day in 2003 when he pulled the trigger to franchise his 45-year-old family business.
"When my father retired and handed me the business, I decided to franchise because I feared that without the resources offered by a franchisor, our business would be stuck on the outside and eventually left behind," noted Scott Rohrer.
That year, Rohrer's business became a Benjamin Franklin Plumbing and a One Hour Heating & Air Conditioning. Five years later, Rohrer expanded the business even further by adding on Mister Sparky Electric.
"One of the resources we greatly take advantage of is BuyMax. It gives us buying power," Rohrer said. "We pretty much use as many of the BuyMax programs that fit into our marketplace and work well for us."
A Powerful Partnership
From its start, the BuyMax mission has been to support businesses by identifying vendors and products, negotiating pricing, and bringing best-in-class deals to its members. It recently relaunched its services and brought in new team members to maximize efforts. This team is head by Bryan Wright, Vice President of Group Purchasing, who joined BuyMax in early 2020.
"Now is an exciting time to be a part of BuyMax," noted Wright. "We are thrilled to be developing tools and services designed to make our members' businesses more profitable. We have several new projects in the pipeline aimed at helping our members save money, and we are looking forward to providing customers with an enhanced experience."
BuyMax members have access to national vendors at a substantially lower pricethan they would be able to negotiate on their own. Members enjoy unbeatable purchasing power, which allows them to build stronger relationships with vendors – ultimately saving owners time, effort, and face.
"I never try to be 'that guy' who beats up the vendors on price because I know they have to make margin as well," said Rohrer. "BuyMax is interested in helping my success as a business owner. They do work on my behalf and contribute to my success."
The BuyMax Preferred Vendor portfolio has over 175 vendors with over $1 billion in buying volume. "At least once a year, I look at all of the updated Preferred Vendors and see how I can incorporate them into our business to save money," remarks Rohrer.
Rohrer's business has also found success by taking advantage of the industry-leading Preferred Vendor Rebate deals. "Getting a rebate of 17% to 18% is huge. When we price our product to market, we don't take the rebate into account, so all of that goes to the bottom line."
Members of BuyMax also have access to all of its special programs, including Private Label Products, Fleet Solutions, Communications, and more.
Rohrer's business finds some of the most value in the Private Label Products. BuyMax's unique range of products from worldwide manufacturers are usually not available to consumers in big box stores or typical online stores, which offers members exclusivity.
"For us, the value in Private Label Products come from getting a superior product that the marketplace doesn't have access to," said Scott Rohrer. In addition to sourcing hard-to-find products, businesses, like Rohrer's, can put their brand and logo on products and consumables to leave behind in customers' homes.
Working with BuyMax over the years, Rohrer has maximized profit and saw success through its offerings.
"I would encourage my fellow franchise owners to get involved with BuyMax," noted Rohrer. "If they've tried it in the past, they should definitely try again. They could even reach out to me, and I'd be happy to share my experiences with BuyMax."
Business owners face hard decisions daily, but BuyMax aims to be one easy decision that will ultimately contribute to a business's growth.