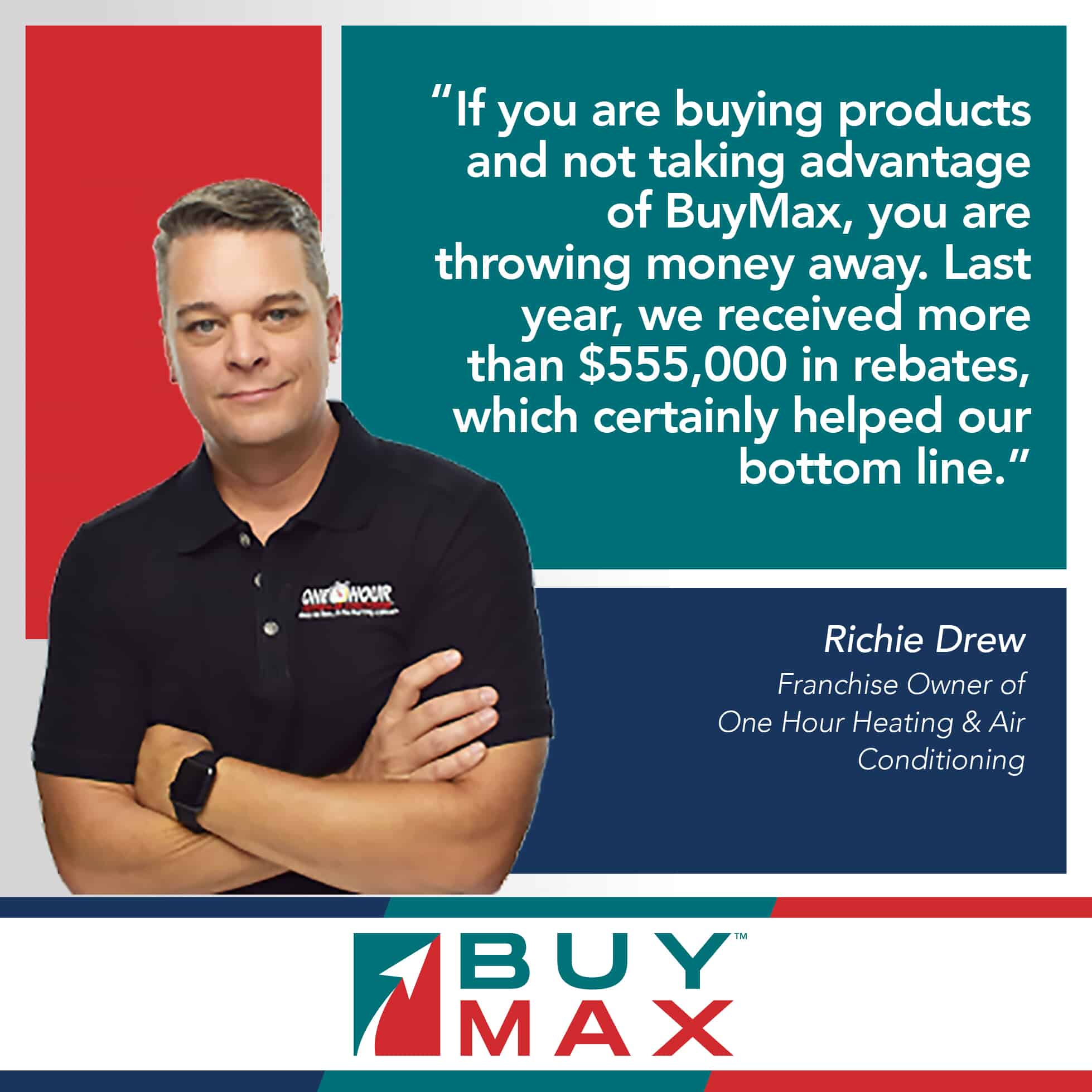 For 38 years, Richie Drew has been serving Myrtle Beach and its surrounding areas with his One Hour Heating & Air Conditioning franchise. Although much in the industry has shifted over the years, the one thing that has remained a constant is Drew's commitment to high-quality service.
This commitment and his attention to saving his business money have allowed Drew to run a successful business for nearly four decades. Since the beginning, Drew's business has been a BuyMax member.
"We've been using BuyMax's services for so long that at this point, it is just a part of our business," said Drew. "We mostly take advantage of BuyMax's purchasing power and vendor rebates."
BuyMax's mission is to help its members save money. One of the money ways this is accomplished is through rebates offerings through our portfolio of pre-vetted vendors. These vendors are in various industries, including fleet, insurance, communications, apparel, marketing, and more, all aiming to cover any of your business's needs.
"If you are buying products and not taking advantage of BuyMax to receive rebates, you are throwing money away," notes Drew. "Last year, we received more than $555,000 in rebates, which certainly helped our bottom line."
The BuyMax vendor portfolio is ever-growing as its members express new or rising needs. This makes it essential for members to check in with the BuyMax team or website periodically to make sure they are fully capitalizing on their membership.
"My biggest advice to anyone looking to start with BuyMax or to increase their savings is to annually or biannually check your vendors against BuyMax's listings. You'll find nuggets in there every single year," said Drew.
Make this your business's most successful year yet by learning more about BuyMax's vendors at buymax.com/preferred-vendors and filling out the contact form at the bottom of the same webpage to be in touch with our team.