As a business owner, you can expect some level of turnover in your employees. However, this past year has prompted a record number of resignations. This trend has led some to call this period "The Great Resignation."
The U.S. Bureau of Labor Statistics announced in September 2021 that 4.4 million Americans, or 3% of the workforce, had quit their jobs. These resignations span all industries and can be pretty stressful and expensive for employers.
We partnered with our preferred vendor CareerPlug to create a guide for employers. In this blog, we aim to help you understand why workers are quitting and how you can keep a high retention rate at your business.
Why Employees are Quitting
To understand this phenomenon, CareerPlug recently surveyed 500 employees in various industries. They found that 50% of participants thought about leaving their current job in the last twelve months.
When questioned further, these participants noted a handful of reasons why they are looking to pursue other ventures.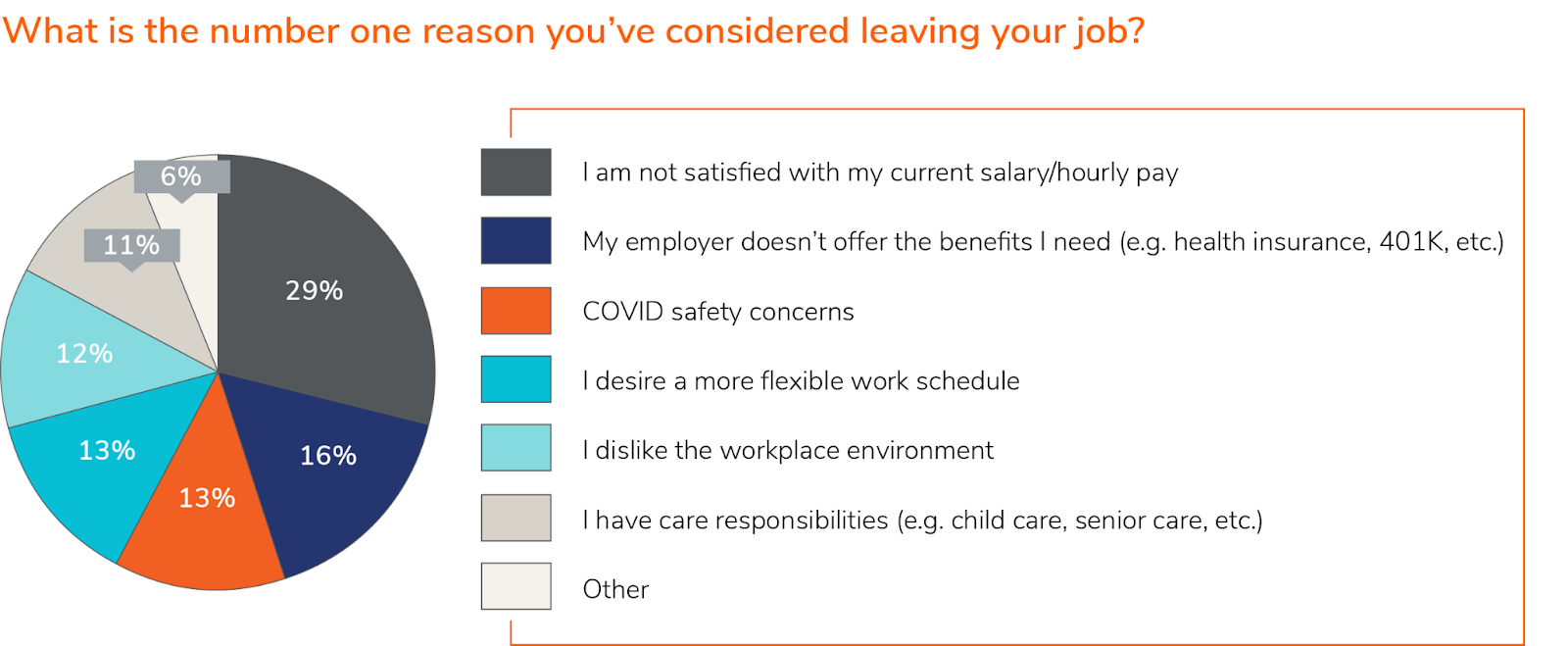 The data shows that the primary reason for lower job satisfaction is compensation. Currently, there is an unprecedented demand for labor. This gives job seekers more leverage and allows them to quit in search of a higher salaried position.
The second most popular reason people are considering leaving their jobs is due to benefits. The COVID-19 pandemic has changed the priorities of many employees. Now, they expect certain benefits from their employers, including health insurance, 401k, remote work opportunities, and more. Once again, with labor in such high demand, employees seek jobs that can offer them more.
The third reason employees are considering quitting is over COVID-19 concerns. In March 2021, a U.S. Census survey found that 4.2 million adults were not working because of fears of getting or spreading COVID-19. These concerns have led many people to look for new positions that feel safer or offer remote or flexible work options.
CareerPlug further explained these reasonings and the other top reasons workers are quitting in its recent blog.
Keeping Employees at Your Business
Avoid employee turnover and searching for new personnel in this labor shortage by keeping your current employees happy. There are multiple strategies for employee retention that involve improving the work environment, engaging employees, professional development opportunities, and more. CareerPlug's blog discusses the Top Ten retainment strategies with Clint Smith - author of the upcoming book, How to Hire, and CareerPlug's Founder and President.
Smith's strategies include:
Aligning new hires with your business's core values
Offering enticing benefits
Giving your employees recognition and appreciation
Developing growth paths or career tracks
Understand these strategies and the rest of Smith's Top Ten in CareerPlug's blog.
How BuyMax Can Help
Members of BuyMax receive exclusive deals and discounts from more than 300 vendors. Some of these vendors, including CareerPlug, can help your business with hiring or retention. This includes vendors who are experts in human resources, payroll, and administrative work. You can also use our vendors for high-quality apparel or gifts for your employees.
Learn how becoming a BuyMax member can help your business thrive at buymax.com/become-a-member.